Manarola is one of the most iconic places in Cinque Terre, Italy welcome to Manarola. It is the second smallest of the Cinque Terre towns and is awash with priceless medieval relics. Here are the top things to do in this breathtaking village.
Begin by Taking a Walk
One of the best things you can do in Cinque Terre is hiking. This is because the hiking trails here are among Italy's most beautiful. If you are an outdoor lover or someone that loves to take a walk in between your bowls of pasta, this is a great way to discover what Manarola and Cinque Terre offers.
Explore the Village
In this village, you will find unique cafes and shops while also enjoying some of the best wine you have ever had. Sit back and relax while you gaze at the boats cruising along the Ligurian sea.
Chomp on the Delicious Food
From gelato to seafood, indulge in some of the best food this country offers in Manarola. Although it is just a small town, its food really speaks volumes. You have to taste it for yourself while enjoying the Ligurian Sea stunning views.
Romantic Walk
With Manarola's stunning Cliffside and breathtaking views, if you are looking for something romantic to do a simple walk on the boardwalk is a must. Try doing this at sunset for even more romantic views.
 Admire Unique Architecture
The unique architecture of Manarola paints a picture of this village's history. It is one of the oldest towns in the Cinque Terre. San Lorenzo is one of the churches here and it dates to as far back as the 12th century. The views across the rooftops overlooking the vineyard-covered hills and the sea are spectacular. It is also widely known for the pastel-colored houses that add to the vibrant charm.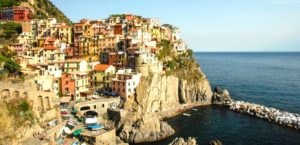 Grapevines
This town is famous for its sweet wine and has more grapevines than any other region in Cinque Terre. Many visitors love the easy trails here that give a scenic view of the sea and of the rest of Manarola to get to their wine tastings.
Views from the Rocks
Sharp rocks separate the walkway from the water here. You can escape the crowd by going out of the main way and stepping on the rocks. The walkway is very steep and the rocks are sharp, so be careful. From the top of the rocks, you will get a different view of Manarola.